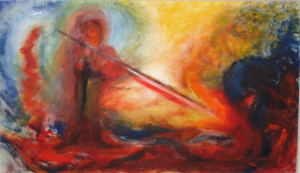 Anthroposophical Meditation
A Modern Western Way to Spiritual Experience
Waldorf School of Lexington, 739 Massachusetts Ave.
Sponsored by the Anthroposophical Society in Greater Boston
https://www.anthroposophyboston.org/
Lecture Thursday, September 13, 7 – 9 pm
$15 suggested or any donation appreciated (students free, seniors $10)
How do I come into a meditative deepening that connects me to my own spiritual source?  In meditation you find a place of inner quiet. You become centered and enlivened.  This evening is very practical. We will do some exercises and speak about meditation based on the work of Rudolf Steiner.
About the Speakers   
Agnes Hardorp and Thomas Mayer have been teaching courses in Anthroposophic meditation in Europe for the past 14 years.
For more: www.anthroposophical-meditation.info
Follow-up Weekend Workshop  
You are also invited to a follow-up weekend workshop in Harlemville, NY  from September 14 – 16, 2018.
Friday 7 p.m. – 10 p.m.,
Saturday 9:30 a.m. – 6:30 p.m.,
Sunday 9:30 a.m. – 1:30 p.m.
Location: Mettabee Farm, 551 Harlemville Road, Hillsdale, NY, www.mettabeefarm.com
Course fee: $150, for Friday night only $30, to register send an email to: agneshardorp@gmail.com.